PL13 Patch Notes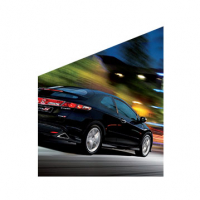 Hutch_Dmitri
Posts: 324
admin
PL13: AMERICAN FRONTIER
After months of sitting at home, racers flock to dusty roads. It is here we celebrate the ingenuity of engineers and the outlaws competing in elite races in pursuit of fame and fortune. Straight out of the Wild West comes a new collection adorned with familiar stars and stripes. Welcome to the American Frontier.
Sit down with a glass of Tennessee's finest as we take you through what's coming.
NEW CAR BRANDS

In PL13: American Frontier, we are adding over 180 new models from many familiar brands. 
Ford
Spearheading the update is the All-American Ford which brings 60 new vehicle models. Slam your rivals in dirt with the notorious Ford F-150 Raptor truck, or conquer the rough terrain with the greatest American automotive icon, the Ford Bronco.
Otherwise, fans of gutsy engines will welcome the inclusion of several muscle and racing beasts, such as the Mustang FR500GT, 1967 GT40 race car, and Ford Police Interceptor Sedan, bringing the final touches to your Ford collection. And don't forget the Ford Mustang GT4 - with stock handling of 94, rear wheel drive and slick tyres, only a few cars will pose a threat to the ultimate product of Ford Performance division.
Dodge/Ram
There's more good news for truck and muscle enthusiasts as Dodge/Ram presents with 54 new cars between the two of them. 


The variety is astounding, making the choice of highlights very challenging, however our favourite additions in this update include a serious selection of Viper models to satisfy your racing lust, with the Viper SRT-10 ACR X perhaps being the finest example.
With other fan-favourites coming in PL13, including the Charger, Razor and Venom to name a few, there is something for everyone in the updated Dodge/RAM collection. Do make sure to check out the full list of vehicles with the All Cars feature.
Chrysler
Chrysler represents 42 models from its century-long history. Your garage will benefit from some of Chrysler's most iconic vehicles including this Chrysler Firepower concept, which sadly never made it to production, but you still have a chance to own one in Top Drives.
Another notable example is the original 1957 Chrysler 300C. In fact, a whole range of Chrysler 300 series vehicles are for the taking in the American Frontier update, along with many concept cars such as Chrysler Nassau or Phaeton. With models covering a wide range of RQ levels, there is no lack of new unique Chrysler models for classic American car enthusiasts.
Acura
The Import luxury brand Acura comes with 30 models, bringing many alternatives to the long-standing American brands.
The choice is yours as Japanese-American legends including the Acura NSX and Integra Type R are all making their way to the Top Drives garages across the globe, while Acura's school of conceptual engineering is observed in futuristic vehicles like the Acura HSC and DN-X.


AMC
Finally, the now extinct American Motor Corporation (AMC) gives us a glimpse into the glorious past of American car manufacturing with 8 classic models of the finest breed, including the AMC Gremlin, AMX/3 and Rebel Machine.
CAR CORRECTIONS & RARITY CHANGES
As with all of our previous updates, a series of corrections, rarity changes and RQ changes are coming in the PL13 update. Once again we would like to express our gratitude to the car corrections team who voluntarily help us enhance the authenticity of your gameplay experience. You can access the Public Car Corrections sheet by following the links below:
PL13 Public Car Corrections sheet: https://bit.ly/2JPbtnc
PL13 Rarity Changes tab: https://bit.ly/3n9S0vG

PL13 RQ Changes tab: https://bit.ly/2Lit1Z1
As always, you can make suggestions for future corrections and report any inconsistencies in the dedicated forum thread: https://forums.hutchgames.com/categories/car-corrections
NEW ENVIRONMENT
The Aircraft Boneyard is the new playable 3D environment introduced in PL13.
Eight new challenges take place out in the dust in an abandoned airfield, inspired by a real United States Air Force base which now acts as an aircraft boneyard for all excess military and U.S. government aircraft and aerospace vehicles.
New Environment offers a variety of challenges for outlaws and desperados alike.
Feed your rivals with dust on the brand new Runway Drag strip.
Massive aircraft hangars serve as a perfect backdrop for bitter racing gang showdowns.
Witness the best drivers viciously attacking the twisty service roads to get an upper hand over their foes.
BUG FIXES
KTM X-Bow RR (2016) no longer has the German Renaissance tag. 

Scroll bar in the filter categories now appears in the correct position at the top.
KNOWN ISSUES
Issue with Country filter - countries are not categorised properly based on the number of Cars.
THANK YOU!

That's it for today, and enjoy the new update!
Post edited by Hutch_Gsearch on
This discussion has been closed.