Silver Screen Challenge Series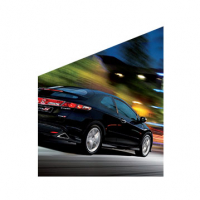 Hutch_Dmitri
Posts: 365
admin
Welcome to Hollywood! You will spend the week traversing the trials and tribulations of the Walk of Fame, your path from your local theatre understudy to sell out box office draw and an interview on the Tonight Show. Collect cars featured in TV and movies, all tagged with Silver Screen. As you win races along the Walk of Fame challenge, you'll need more and more Jaguar XK140 trophies from the Hollywood themed events, to ensure you have the credentials to make it in this business. The further you walk the path to fame and fortune, the greater the riches. The Final Prize of the Walk of Fame challenge is the exclusive.
Silver Screen bundles and packs will be available for purchase with gold in the store throughout the week.
1) Silver Screen events map out your journey to fame and fortune. Perform well in Silver Screen events to earn the Jaguar XK140, the main currency to advancing your career in Hollywood, and Silver Screen packs.
2) 7 Silver Screen events will run from 24th to 30th May for all players 150+ RQ
3) Players who are 330+ RQ will find all of their standard events also offer Silver Screen packs and Jaguar XK140, providing an extra 5 opportunities.
4) Play the Walk of Fame Challenge as often as you can. You'll encounter gates on your path to stardom, pass these gates with your collection of Jaguar XK140s. You'll need 5 of them to complete the challenge. You'll also need a diverse garage of Silver Screen cars to overcome the challenges that await. The Wall of Fame Challenge will run from the 24th to 31st May.
5) Earn the Aston Martin Bulldog by completing Round 14 of the Walk of Fame challenge, which you will need 3x XK140s to reach
a) When the On Location event begins on Wednesday, if you have already won the Aston Martin Bulldog you will gain access to a secret event.
b) After the Challenge finishes, so long as you earned the Aston Martin Bulldog, you can make your way to the final Premiere After Party event to brag about all you gained along the way for even more prizes.
Walk of Fame prizes:
Prizes: 1 Aluminiums, 3 Ceramics, 2 Carbon Fibers, $100,000, 4x Prize Cars
(x = number of XK140s needed to reach these prizes)
0x: 1x Aluminium, $20,000
1x: 1x Ceramic, $30,000
2x: 1x Ceramic, $50,000, Prize Car Reissue: Rare Pontiac Firebird Trans Am (1970)
3x: 1x Ceramic, Prize Car: Ultra Rare Aston Martin Bulldog (1980)
4x: 1x CF, Prize Car Reissue: Epic Ford GT40 (1965)
5x: 1x CF, Prize Car: Legendary Aston Martin One-77 (2009)
Some players already have multiple copies of the Pontiac and Ford prize cars, so in this case, every player will be able to win them, even if they have won them before.

Good luck!
Post edited by Hutch_Gsearch on